Toothbrush Pink Rabbit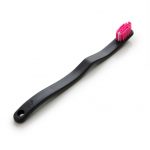 Toothbrush Pink Rabbit
180,000 ₫
180,000 ₫
Description
Classic Yumaki handle made from Cyan Polypropylene plastic with matte grip surface and shiny brand.
This model does not have a tube shaped travel case and comes in a simple packaging.
Brand
yumaki
Yumaki was started late 2009. The Asian-based Swedish founder had a dream to reinvent the most personal everyday item - the Toothbrush. What started as a range of colorful designer toothbrushes, evolved into one-of-a-kind unique handles no one else in the world has and more innovative high quality oral care products inspired by modern lifestyle to complete the range. Since they produce products from different materials such as sugar cane plastic, bamboo, recycled plastic etc they make sure the quality and process is the most suitable for that particular product. Today Yumaki is sold in selected stores in over 23 countries around the world, have been featured in many well established magazines and publications and can be seen in the bathroom of the rich and famous.